Amazon Free Recharge Tricks
[Unlimited Loot] 100% Prepaid, DTH Recharge Cashback
---
Amazon Free Recharge Tricks | Unlimited ₹50 Recharge Every Month – Hey Fast2tricks User Hope You Love Free Free Recharge Tricks & Free Internet Tricks. You Are Reading This Article Then Am Sure You Are Very Intarested On Recharge Tricks.
Read More – [Unlimited] Free Recharge Tricks For Jio | Free Call & Internet
Almost 2 Year Before Amazon Launched Theirs Recharge Section Into The App & Website Section. After That They Are Stared to Give Offer For Customers.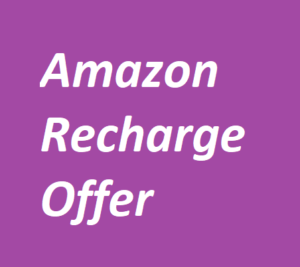 From Starting to Now They Are Launched too Many Amazon Recharge Offer, Among of Those Our Fevourite Offer 100% Cashback Upto ₹50 Recharge.
Almost 100% Amazon UPI Linked Account Got This Offer Every Month & You Can Make ₹50 Recharge Absolutely Free Per Month. Not Only That There Have Amazon Flash Sale Recharge & Shopping Recharge Offer. Here We Will Discuss On All The Way Of Amazon Recharge Tricks, After Reading This Article am Sure You Don't Need to Read Any Other Blog Post About Amazon Recharge.
Because Here We Have Added Most Popular Working Offer In One Single Post. So Now Your Job Is Read The Below Recharge Way & Try to Understand Clearly.
Read Once – [Unlimited] Free Recharge Tricks For Jio | Free Call & Internet
---
Amazon UPI Free Recharge – Get ₹50 Free Recharge Every Month
Amazon India Recently Include UPI Section. Where Link Your Bank Account, Check Bank Balance, Transfer Money & Make Transaction Fastest Way.
Recently They Are Giving Cashback For First Shopping or First Recharge Of The Month. As Their Offer Condition Get Flat 50 Cashback On ₹50 Recharge. One Time Per Month.
Amazon UPI Recharge Offer
1. First of All User Download Amazon App
2. Create an Amazon Account Using Email & Number
3. Goto UPI Section & Link Your Bank Account
4. Once Done Goto Prepaid Recharge Section
5. Put Recharge Amount ₹50 and Number
6. Continue & Make Payment From UPI Linked Bank
7. Once Done, You Will Get ₹50 Recharge + ₹50 Cashback to Amazon Pay Account Within 24 Hour's
Unlimited ₹50 Amazon Recharge Offer – No Limitations
Before Trying This Method You Must Understand Above Recharge Offer. This Is The Second Version Of The App. Who Have Multiple Bank Account Registered With Different Phone Number This Offer For Those.
For Trying This Offer You Have to Link Amazon Account With Different Bank UPI. Grab ₹50 Cashback For Each Account.
Amazon UPI Unlimited ₹50 Recharge
1. Intarested to Make Unlimited ₹50 Recharge Using Amazon?
2. You Need Multiple Bank Account With Different Phone Number
3. Create Amazon Account Using Each Bank Registered Number
4. Linked Bank With Amazon Through UPI
5. Make ₹50 Recharge One Time Per Month & Get ₹50 Cashback For Every Account
6. One Amazon Account = ₹50 Recharge, Unlimited Number = Unlimited Recharge
Amazon Flash Sale Recharge – ₹25 ₹35, ₹50, ₹75, ₹10 Free Recharge
This Is Very Most Fevourite Offer For Us. Because This Offer Giving You Re Use Of Your Amazon Pay Wallet Balance. After Using Above Offer ₹50 Saved Per Month.
Using Amazon Flash Sale Re Use The Cashback & Make ₹25 to ₹100 Recharge Absolutely Free. In That Cash You Have to Pay From Amazon Pay & You Will Get ₹50 Cashback On Same Amazon Account.
Amazon Flash Sale Recharge
1. Every Month 1 to 3 Time Amazon Give Flash Sale Recharge On Specific Account
2. This Flash Sale Time Limits 8AM to 9PM
3. During This Time If You Recharge, 25, 35, 50, 75, 100 Recharge
4. You Will Get Full Cashback As Of Amazon Flash Sale Recharge Amount
5. In That Case You Can Recharge By Makeing Payment UPI Or Exiting Amazon Pay Cashback
6. To Apply This Offer, Maximum Time You Will Get 100% Cashback Instantly
7. We Will Updated You About Amazon All Flash Sale Once It Will Live
Amazon Free DTH Recharge – ₹50 Free Recharge Per Month
Amazon Flash Sale & Monthly UPI Recharge Both Will Working For Prepaid & DTH Recharge. If You a Airtel Dish, DishTV, Videocon D2H, Sun Direct, Taka Sky Dish User Then This Offer For Free.
Following All The Amazon Free Recharge Tricks You Can Enjoy Monthly ₹153 Recharge Plan Absolutely Free. Interested DTH Subscribers Please Read The Article Step From Below.
Amazon Dish Free Recharge
1. Amazon + Dish User Make Their ₹153 Plan Almost Free
2. Make ₹50 Recharge To Your Dish Using Amazon UPI Get 100% Cashback
3. This 50 Balance Added to Dish Main Account
4. Keep Updated With Amazon Flash Sale Recharge
5. Make 75 Recharge 2 Time Per Month (Once It Will Live)
6. This Way Get Almost ₹153 Or Above Free Recharge For Your Dish TV
Amazon Shopping & Free Recharge – ₹35 to ₹200 Recharge Absolutely Free
Who Don't Like to Shop Online ? As Like Me If Also Amazon India Is Your Fevourite Shopping Site. You Are Eligible Specific Shopping + Free Recharge Upto ₹200.
In That Cash May You Have to Order Atlist ₹500 Products From Amazon & Active Upto ₹200 Recharge Cashback Offer. After That Follows Below Step Get Free Recharge From Amazon Shopping.
Amazon Shopping & Recharge Offer
1. Some Time Amazon Provide Recharge Offer For Shopping
2. Shopping Minimum ₹500 Amount Paying Online
3. After That a Offer Will Available to Collect
4. Collect The Recharge Offer
5. Make This Amount Of Recharge & Get 100% Cashback
6. Once Any Time Shopping + Recharge Cashback Comes We Will Notify You
Final Description / Best Word Of Free Recharge Tricks by Amazon :
Amazon Free Recharge Tricks – This Was Some Popular Offer From Amazon, Who Read This Article I Will Suggest You to Use Above Offer, I Hope it Will Profile For You. Once You Apply Any Offer You Will Stared to Love Our Offer.
Now We Are Almost End Postion, Time to Time I Will Added More Upgrade Offer, Information Here. This Was Our Full Description. Thank You For Reading, Keep Sharing Keep Enjoying Exclusive Loot Offer.