Colgate Paste Paytm Loot Offer
Get Rs.100 Paytm Cash With Each Colgate Paste Pack for Free
---
Colgate Paste Paytm Loot Offer, Free Paytm Cashback- Hi Viewers, hope you all are good with our posts. If you buy Colgate toothpaste, like Colgate Dental Cream Toothpaste Pack 100g or Colgate Swarna Vedshakti Toothpaste 100g, you can get extra money from Paytm. 
Read More – Lenskart Loot – Trick to Get Eyeglasses Worth ₹1500 for Free

Paytm is giving away free PayTM cash of Rs.100 if you buy a Colgate Toothpaste Pack on the site and then use it. Just buy the new Colgate toothpaste that has that offer on the package to be a part of this deal. If you buy this pack, you get a unique number you can use to get up to Rs.100 in PayTM cashback.
Users can get up to Rs.100 in cashback. That amount is based on the unique code on the pack that they get. This money will go into your PayTM or UPI account.
New Offer – Kitkat Grand Break Offer – Win ₹200 Cash, Phone, etc
---
How to Get Rs.100 Paytm Cash With Each Colgate Paste Pack for Free
Note:- You can only get this deal with Colgate Swarna VedShakti Toothpaste, Colgate Dental Cream Toothpaste, and Colgate Active Salt Toothpaste 100gm Packs of toothpaste.
1. First of all, You must go to a store or supermarket near you and buy a Colgate Newly Launched Pack in which this offer is written.
2. Find the unique code inside that offer pack.
3. Then, you need to send an SMS with your unique code and send it to the number 8652631525.
This Code is for Colgate Dental Cream Pack, CDC<Space><Unique Code>
Colgate's Swarna Vedshakti Pack has a unique code that is SVS<Space><Unique Code>
This is the code for the active salt pack: CAS <Space><Unique Code>
4. You will get a message along with a link. Click on the link and You'll need to enter your first and last name, your phone number, and an OTP. You'll also need to choose a state and an offer and then click the "Submit" button.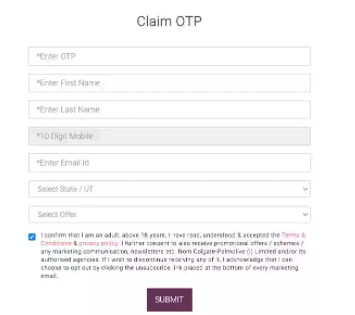 6. If you want the cash back from that offer, then you need to choose the payment method from the list.
7. Then, you have to enter the phone number linked to your PayTM or UPI account here.
8. You successfully finished the process. You'll get cashback in your wallet in 24 business hours.   If you buy toothpaste through Paym, you can get cashback up to 100 cashback.